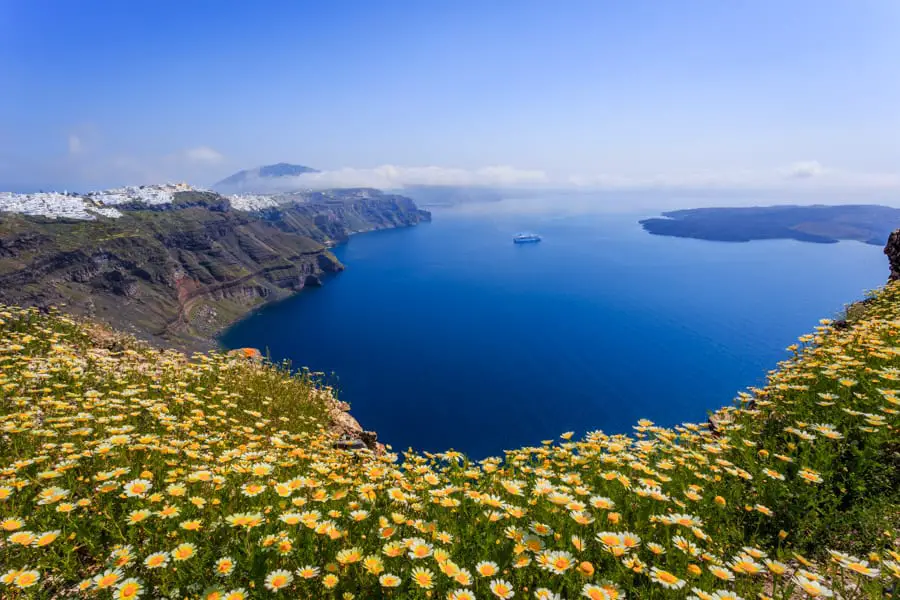 I have said this on more than one occasion, but I will say it again – there are some fantastic views from the Greek Island of Santorini.
But this stunning view of Fira and Nea Kameni Island from Skaros Rock is one of my favourites. And in this post I will tell you exactly why.
Nea Kameni Island is the actual volcano bit by the way! I have just found tha tout researching this photo!
Why do I like this photo so much?
There is so much about this image that I like.
The bright blue of the sky. The lovely deep blue sea.
And the yellow of the flowers that dominate the foreground.
And finally over ot the left the famous white buildings of Santroini sat on top of the caldera.
And then there is the view – quite simply a stunning view from the top of Skaros Rock giving a great perspective on the caldera.
How did I decide on this composition?
I spent a good hour on the top of Skaros Rock. The first five minutes were spent breathing and drinking after the climb to the top of Skaros Rock.
And sweating. Nice I know!
Or as I like to call it consdering potential compositions.
I'll let you into a secret here – sometimes when I stop to take a photo on a strenuous walk I am not taking a photo – I am just having a sneaky rest!
I wanted to get the sense of the scale of the view from the top of Skaros Rock, and contrast the blue of the sea with the yellow of the flowers, getting some white buildings into the picture too.
I moved all around the edge of the rock until I got the curved shape that you can see in this image – this was the natural frame for he composition I was looking for.
Where was the photo taken?
This is the view from the built-up bit of Imerovigli looking down onto Skaros Rock – which is where I took the photo from.
This was taken on my iPhone by the way.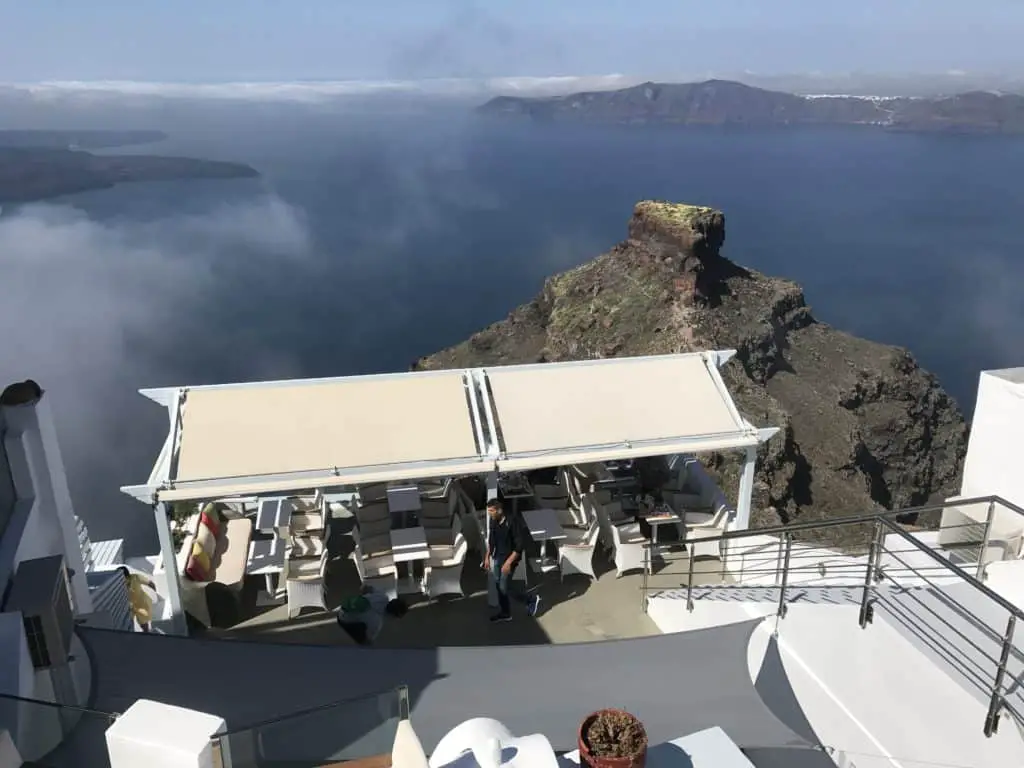 And this is Skaros Rock and the path up to the base of the upstanding rock at the top. If that makes any sense?
And for completeness, here is an extract from Lightroom showing where I took the photo – as ever it is the yellow tab.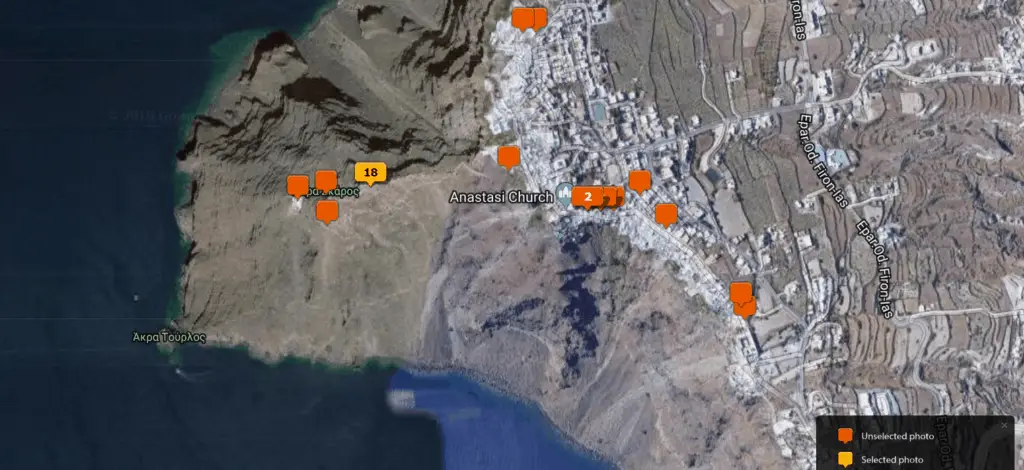 Not that you needed this last bit of info to find Skaros Rock! It is that rock bit with it's own name!
What time of day was the photo taken?
13:09:47 to be precise. And why not?
Here is a picture of the actual set up of my Canon 6D on my Manfrotto 190 Go tripod – yes this is exactly how I took the photo.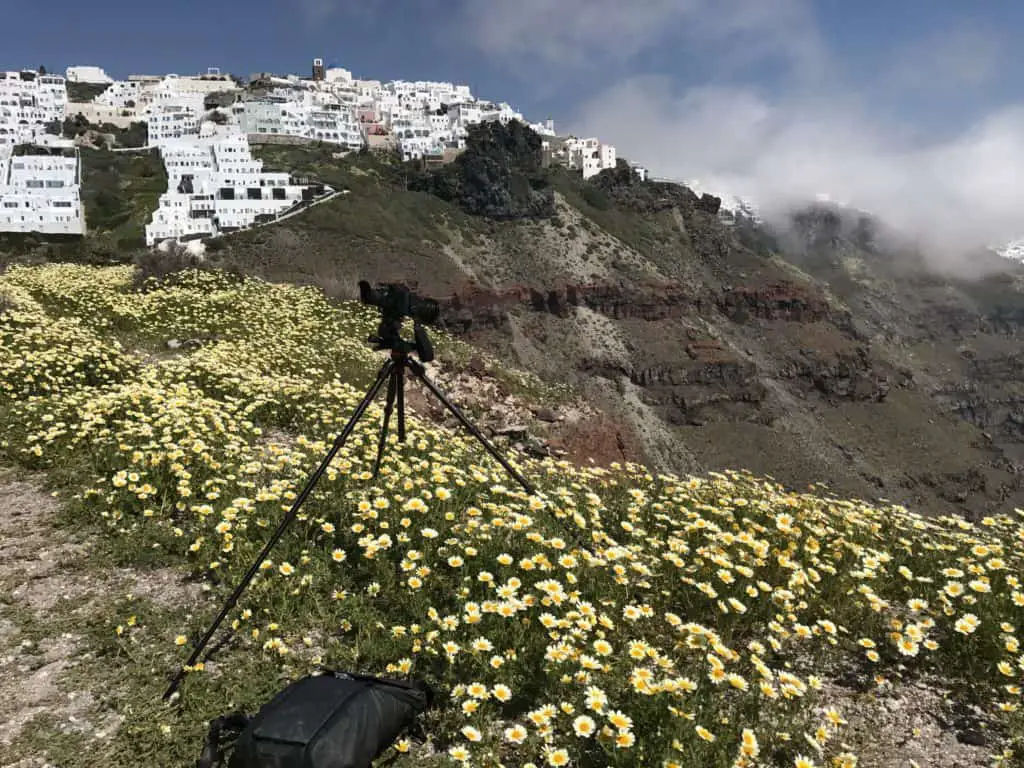 And you can see the last of the cloud lingering around that earlier on that morning had completely covered the sea forming a surreal carpet – check out my other posts for a great photo of this – even if I do say so myself!
What photography gear did I use to get the shot?
Canon 6D
Canon 17-40mm F4 L Lens
Manfrotto 190 Go tripod with geared head
Loupe Viewer
No red hat – I was nice and warm by this time after a good, energetic climb up Skaros Rock. Ok I was hot, sweaty and knackered!!
Oakley sunglasses (lenses marked with drips of sweat that I could not get rid of)
Red shoes (in need of a clean after the climb)
No snacks required – just water! And I took two bottles with me this time which makes a change!
Yes I climbed all the way up Skaros Rock, and down again, and to the bit at the front with the other church wearing those silly red pumps. Here it is in this iPhone panoramic photo taken from the other side of Skaros Rock.

What camera settings did I use?
Aperture F16
Shutter speeds 1/80th second, 1/320th second and 1/20th second.
ISO 100
Back-button focus
Focal length 17mm
AV Mode
10 second self-timer
RAW format
What a surprise that I used 17mm on my 17-40mm lens! I have noticed this a lot – that and that I take a lot of photos with my old faithful Canon 24-105mm lens at 24mm. Interesting.
I think I need to get a 14mm fixed lens – that will sort me out and give me more width which I love for my travel photogrpahy work.
One interesting fact about the image.
I was the only person on Skaros Rock when I took this photo. In the hour I was up there I saw four other people.
Nice and quiet, even at that time – just how I like it!
Is there a behind the scenes video of this shoot?
Yes – well sort of. I have a short video looking down on Skaros Rock before I left the built-up part of Imerovigli – you can see the footpath and the last of the fast moving clouds in the video here.
I am not sure why I did not take lots of videos of this location – Skaros Rock offers excellent 360 views of the caldera which you don't get from anywhere else.
How did I process the image?
This is the processing carried out in Lightroom.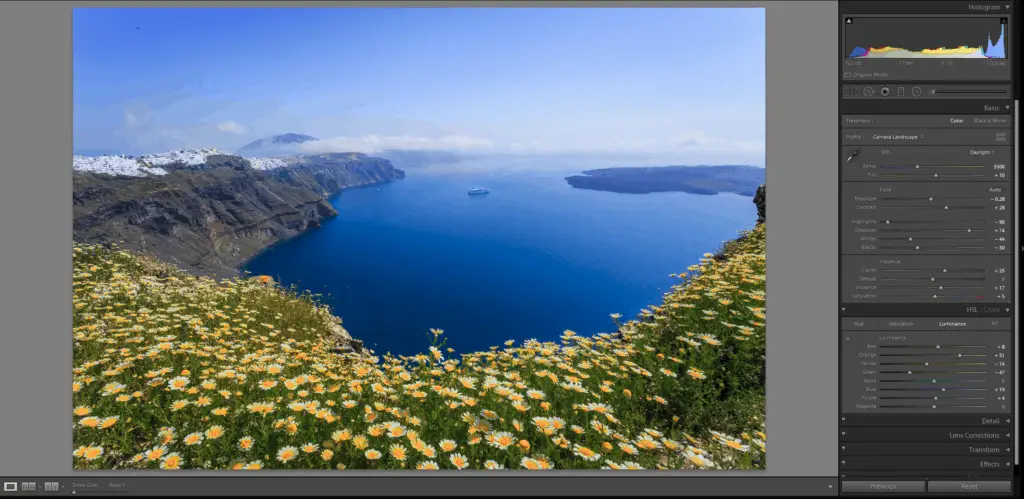 Basic adjustments and corrections are done on import of all images into Lightroom. Further processing was carried out using the Basic Panel and the HSL Panel, along with localised dodging and burning.
Blemishes and edge of frame irritations were removed using Photoshop.
Not too much needed to be done to this image,
What could I have done to improve the image?
More cruise ships would have been ether but there was only one there when I took this photo.
You can't have everything now can you??
And looking at the image a higher viewpoint would have been good, giving the foreground more of a frame for the background.
Problem with this is that I took this photo from the top of a large rock, a very large rock at that. A rock big enough to have it's own name.
And it is difficult to get step-ladders into my hand luggage, and I dont have a bag long enough to carry my painters' pole. Not that I would carry my step ladders to the top of Skaros Rock!!
But the painters' pole – maybe I can get a bag big enough to carry my small painters' pole??
And what are my thoughts on this image?
I like this image as it gives a great view from the top of Skaros Rock looking south which I have not seen before.
No this image is good – happy with it.
I do have a lingering regret about not taking photos from this location at other times, and also of not taking lots of videos.
This was truly a very dramatic location with lots of great photographic possibilities – I do not feel that I have done this location justice.
So that being the case I think I need to go back there!!
Enough of me – what do you think of this image?
Do you like this photo of the view of Fira and Nea Kameni Island from Skaros Rock?
Let me now what you think – it is always great to hear from visitors to my website new and old – all your comments are very welcome .
One last thing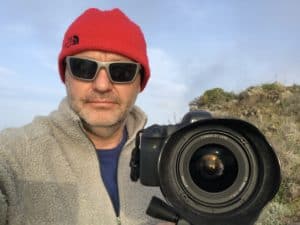 If you want to buy this image, or want to speak to me about future collaboration email me at sales@rickmcevoyphotography.co.uk.
Rick McEvoy ABIPP – Photographer, writer, blogger