Warning
: preg_replace_callback(): Compilation failed: invalid range in character class at offset 56 in
/home3/santork0/public_html/wp-content/plugins/amazon-affiliate-link-globalizer/amazon-link-globalizer.php
on line
175
Warning
: preg_replace_callback(): Compilation failed: invalid range in character class at offset 56 in
/home3/santork0/public_html/wp-content/plugins/amazon-affiliate-link-globalizer/amazon-link-globalizer.php
on line
175
Warning
: preg_replace_callback(): Compilation failed: invalid range in character class at offset 56 in
/home3/santork0/public_html/wp-content/plugins/amazon-affiliate-link-globalizer/amazon-link-globalizer.php
on line
175
Warning
: preg_replace_callback(): Compilation failed: invalid range in character class at offset 56 in
/home3/santork0/public_html/wp-content/plugins/amazon-affiliate-link-globalizer/amazon-link-globalizer.php
on line
175
Warning
: preg_replace_callback(): Compilation failed: invalid range in character class at offset 56 in
/home3/santork0/public_html/wp-content/plugins/amazon-affiliate-link-globalizer/amazon-link-globalizer.php
on line
175
Warning
: preg_replace_callback(): Compilation failed: invalid range in character class at offset 56 in
/home3/santork0/public_html/wp-content/plugins/amazon-affiliate-link-globalizer/amazon-link-globalizer.php
on line
175
Warning
: preg_replace_callback(): Compilation failed: invalid range in character class at offset 56 in
/home3/santork0/public_html/wp-content/plugins/amazon-affiliate-link-globalizer/amazon-link-globalizer.php
on line
175
Warning
: preg_replace_callback(): Compilation failed: invalid range in character class at offset 56 in
/home3/santork0/public_html/wp-content/plugins/amazon-affiliate-link-globalizer/amazon-link-globalizer.php
on line
175
Warning
: preg_replace_callback(): Compilation failed: invalid range in character class at offset 56 in
/home3/santork0/public_html/wp-content/plugins/amazon-affiliate-link-globalizer/amazon-link-globalizer.php
on line
175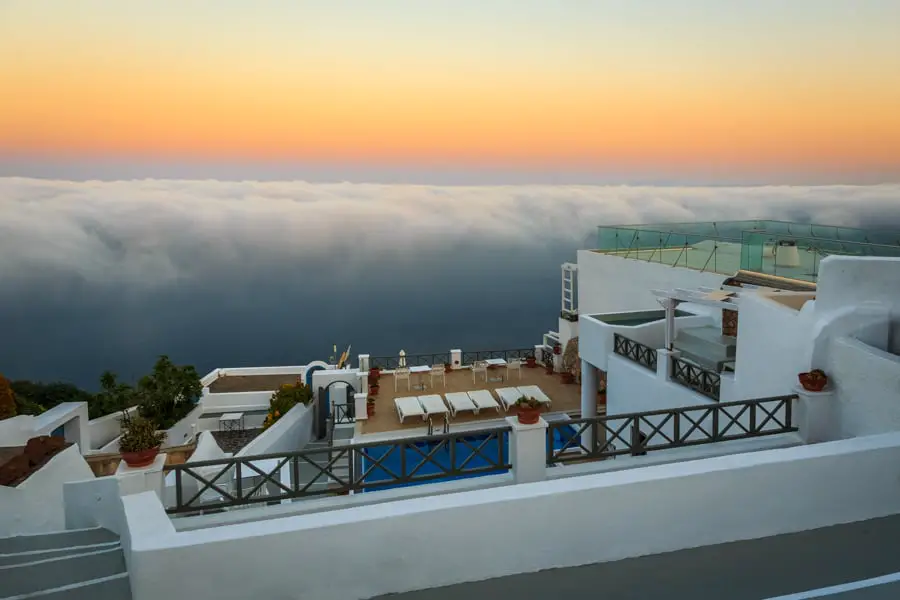 This is one of my favourite images of Santorini.
When I say fantastic photography I need to explain – this is not me bigging myself up – I just needed to get the keyword Santorini photography into one blog post – no point trying to hide this is there?
In all seriousness I really do love this photo of a weather phenomenon which you can't get anywhere – you need certain conditions to get clouds right below your hotel like I saw this morning!
This is still one of my favourite photos of Santorini.
Why do I like this photo so much?
I have never seen such a scene before. This was what greeted us on the first morning.
A blanket of cloud immediately below us. Now I had moved around quite a lot taking lots of photos of all this good stuff before returning to the hotel to get this great photo with that dense layer of grey morning clouds with the sunrise immediately above.
I love the contrast of the colours and the uniqueness of this scene.
And the fact that it was taken at the actual hotel that we stayed at is special to me. Special as my wife spent a lot of time choosing this exact hotel for my photographic trip to Santorini.
And what a great choice of hotel she came up with!
How did I decide on this composition?
This was the view from the back of the hotel, the Kasimatis Suites.

I went down to the steps at the bottom of the hotel, below which there is nothing but rocks and the sea.
And on this day clouds.
The scene did not work as well for me – the composition from there was not as interesting.
I settled on the view you can see in the main image on this post – this was telling the story of a morning at a hotel on the Greek Island of Santorini. A sunrise morning with low clouds, which is not unique but hardly a daily occurrence either.
I love the contrast between the hardness of the white buildings and the softness of the grey clouds, all topped off by that lovely sunrise warmth which has not yet reached down to the clouds below.
Where was the photo taken?
At the Kasimatis Suites in Imerovigli on the Greek Island of Santorini. I have to say this as some people will read this one blog posts on its own so I have to explain in enough detail these things on every post!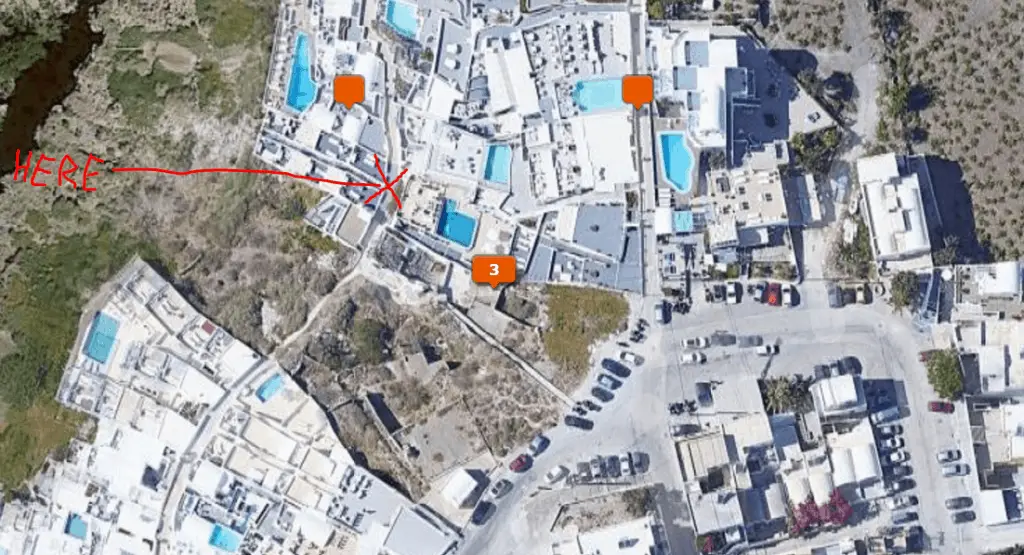 Look at the extract from Lightroom. It is so detailed you can see the swimming pool, and exactly where I took this photo!
What time of day was the photo taken?
4:53. Yep that early.
What photography gear did I use to get the shot?
Canon 6D
Canon 24-105mm F4 L Lens
Manfrotto 190 Go tripod with geared head
Loupe Viewer
Red hat
Oakley sunglasses
Red shoes – fresh on!
This was pre-morning coffee!
What camera settings did I use?
Aperture F8
Shutter speeds 1/250th second, 1/1000th second and 1/60th second.
ISO 100
Back-button focus
Focal length 24mm
AV Mode
10 second self-timer
RAW format
One interesting fact about the image.
It is taken just down from our room at the Kasimatis Suites. The steps down were to some of the other rooms in the hotel.
And I had not even had a coffee – it was a case of wake up and get out there.
OK there is one more fact – I was woken by my wife who was awake before me and opened the curtains to be greeted with this amazing scene!
Is there a behind the scenes video of this shoot?
No. There was much too much going on for that! Which I will be completely honest with you is a regret.
I would have loved to have some videos of this bank of morning cloud, but I don't have any. Another reason to go back to Santorini then.
Having said that there is this video taken from a slightly different viewpoint which gives you an idea of what the scene looked like, and sounded like!
How did I process the image?
This one took a while to produce in Lightroom. First job was to merge the three bracketed images together in Lightroom to form a new Dng file.
Next job was to get the verticals and horizontals correct. After that I always do white balance.
This gives me a technically accurate starting point for the more creative processing.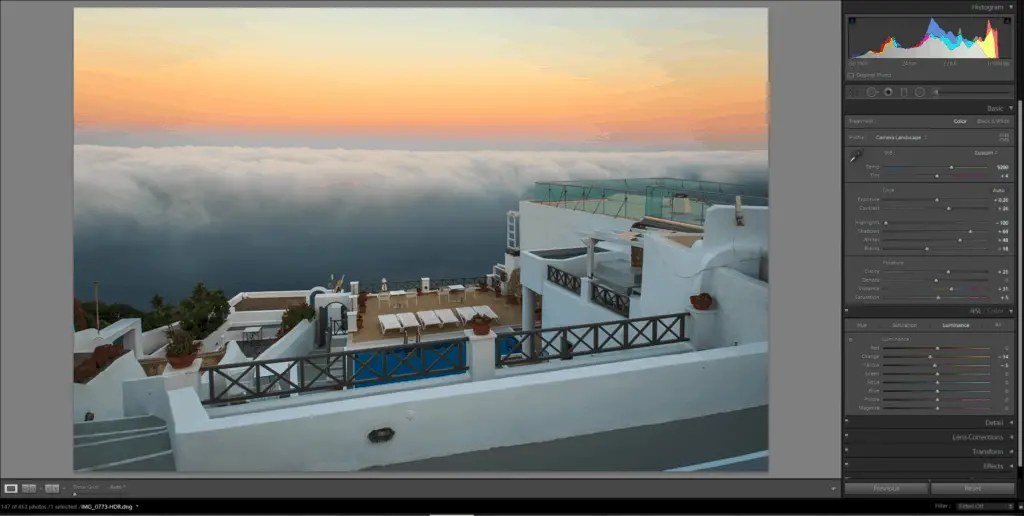 Most of the processing was done in the Basic and HSL panels in Lightroom. There was quite a bit of cleaning up to do, removing blemishes, dust spots and random bits of lights and stuff in the building that were detracting from the scene.
What could I have done to improve the image?
Hmmm. Not sure to be honest.
I need to get rid of that bit of wall bottom right I have only just noticed this writing this section.
And that is the point of me asking this question – it forces me to look at the images I have created and see what is in there that I dont like, and think about ways that I could have created a better image.
This is something I recommend everyone does who wants to Improve their pototgraphy – critique your photos yourself and even better get someone else to do this for you.
Not you parents, husband, wife, children or best friend. They will just say that they think your photos are great even if they are rubbish!
No ask someone who knows what they are talking about who will be honest with you.
My first critique as with a Hasselblad Master who was my BIPP mentor no less!
Look at a your photos – study them. I recommend once you have processed a set of images leave them for a decent length of time and then come back to them and give yourself time to look at them and study them properly – you will be amazed what you will find that has always been there that you never noticed before like that bit of wall bottom right!
And what are my thoughts on this image?
I have never seen weather like this. I have never looked down on clouds from my hotel with a big bright band of orange sunrise light above the clouds.
This scene was surreal, and a morning that I will not forget in a long time.
I am happy that this image brings back those memories of that morning – this is why I love photography so much.
And also why I want to go back to wonderful Santorini. Then again there are so many other places on this wonderful planet of ours.
Enough of me – what do you think of this image?
Have you ever seen such a lovely sunrise photo on Santorini?
Am I right describing this as fantastic Santorini photography??
Let me know what you think, even if it is to tell me that I have been speaking a load of rubbish!
Talking of my next venture, now that I am getting near to the end of the creation of this website I would like to tell you about my next website which I will be working on next week called Paxos Travel Guide. Yes I am staying in Greece and producing another travel website, this one with slightly different content to photos of Santorini.
One last thing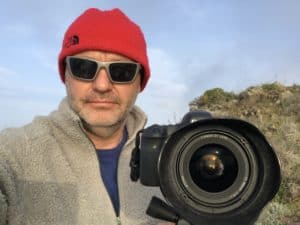 If you want to buy this image, or want to speak to me about future collaboration email me at sales@rickmcevoyphotography.co.uk.
Rick McEvoy ABIPP – Photographer, writer, blogger