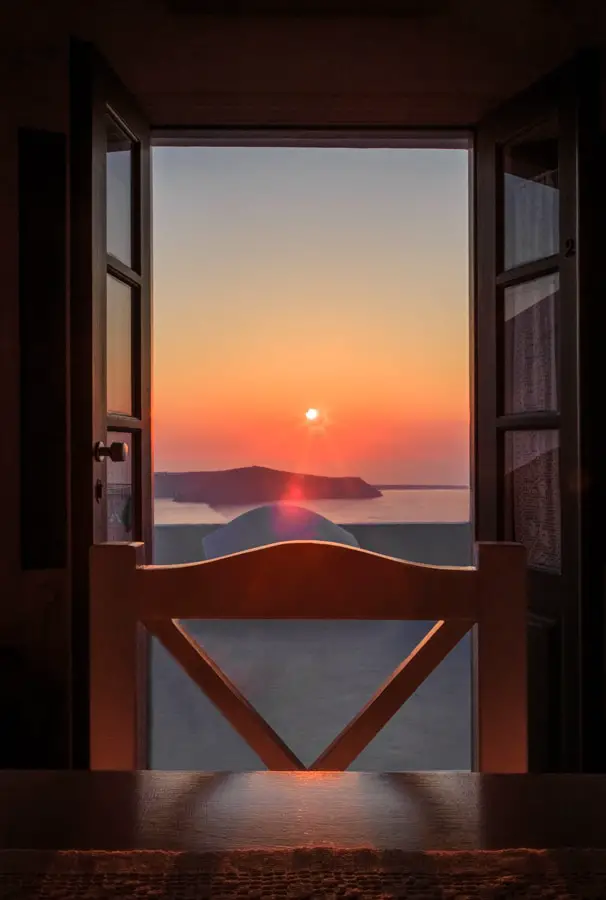 There are many great hotels in Santorini. Careful selection however is needed if you want to get the best views from the rooms in these hotels.
Where can I see the sunset in Santorini from my hotel room? You can see the sunset from the rooms at Kasimatis Suites in Imerovigli. Look at this photo which was taken from our bedroom. How cool is that?
Not every room in Santorini gives you such great views so if this is important to you make sure you check when you book. Just thought I would reiterate that point. Walk around the winding footpaths between all the white buildings and you will seee what I mean, and why I am labouring this point.
Why do I like this photo so much?
Well I am an architectural photographer. And also a landscape photographer. And a travel photographer.
So put these three things together and I am a very happy chappy.
And to be able to sit in your own hotel room and look at the sun, the sea and Thirasia is a wonderful thing.
I look at this photo and I can feel the warmth of the sun when I was there.
This photo makes me want to be there, which makes this image a big success for me.
I love the shadows from the chair and flare of the sun in this image.
And that fact that you look at this photo and know instantly that this is the view from a hotel room of the sun about to set over the caldera.
How did I decide on this composition?
I was sat in our hotel room at Kasimatis Suites watching how things aligned. I had a can of Mythos on the go (that is local beer for those not familiar with Greece and beer!) which helps free my creative juices.
Well lets be honest this is hardly rocket science. All I had to do was align the table and chair with the scene going on over Thirasia and compose for what you see.
There is a bit more about the scene I photographed and what you see in this image which I will come onto later in this post.
Where was the photo taken?
At the Kasimatis Suites in Imerovigli. On the map from Lightroom you can see where our room is would you believe!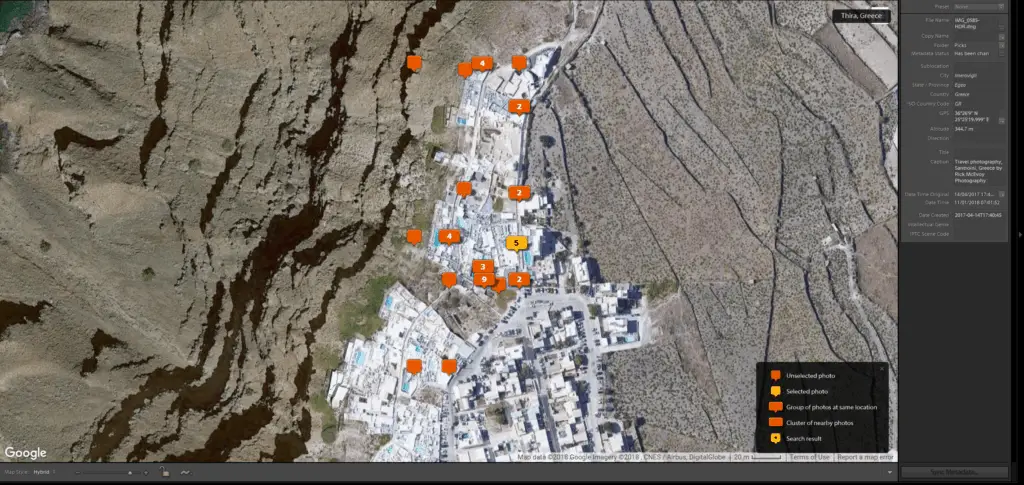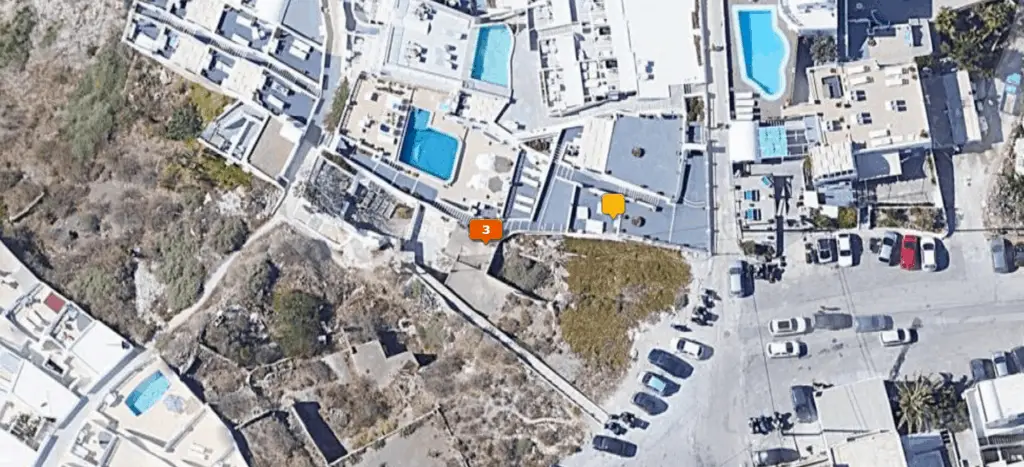 What time of day was the photo taken?
5:40pm. Beer'o'clock time!
What photography gear did I use to get the shot
Canon 6D
Canon 24-105mm F4 L Lens
Manfrotto 190 Go tripod with geared head
Certainly a beer. Probably a can of Mythos (too early for wine)
And most defnitely my loupe viewer so I could see what I was looking at!
And no hat.
And flip flops. Now that is the way to work! Beer and flip flops!
What camera settings did I use?
Aperture – F22
Shutter speeds – 1/400th second, 1/1600th second and 1/100th second
ISO – 100
Focal length – 32mm
AV Mode
Back button focus
Auto bracketing
Handheld
Live view
A quick word on the camera settings. F22. Why use that aperture? Simple.
I think I might have said this before. F22 on my Canon 24 -105mm lens gives me that lovely starburst effect. F22 is the minimum aperture, ie the aperture which lets the least light in, as the opening through the aperture blades is at its smallest.
And for this shot I needed to get the table and the caldera in focus, so the minimum aperture gave me the maximum depth of field.
One interesting fact about the image.
Go down to the processing section and you will see what I had to do in Photoshop to get this finished image.
Is there a behind the scenes video of this shoot?
No. It was taken in our room. I didn't think of doing a video. This is becoing one of my biggest regrets – not taking as many videos as I could have done.
But there is a behind the scenes photo taken with my iPhone. I know – I have some explaining to do! There is more stuff in this scene than there is in the photo. Yep I know that and will confess to all this removal work shortly.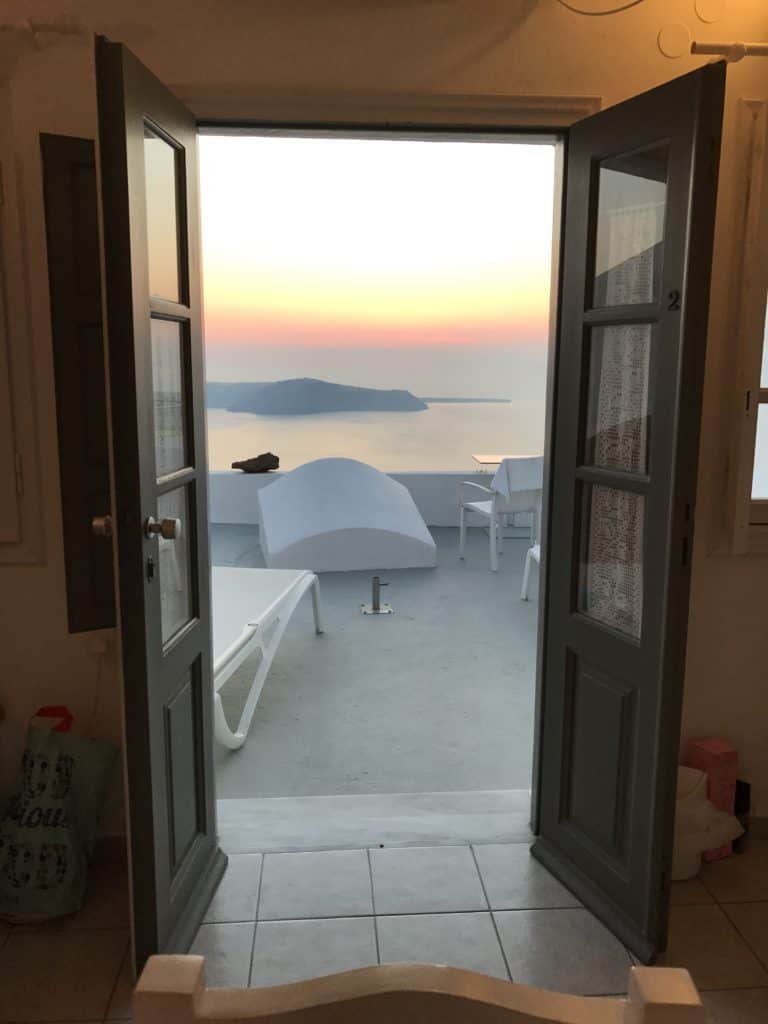 .
As you can see there is also a difference between the capbilities of my iPhone 7 Plus and my Canon 6D with bracketed image capture and all that good stuff deployed.
A big difference.
How did I process the image?
Ok. First things first. I have removed stuff from this image. There it is out in the open.
I will come back to that.
This is the RAW file. This is the two stop over exposed image (1/100th second at F22 ISO 100).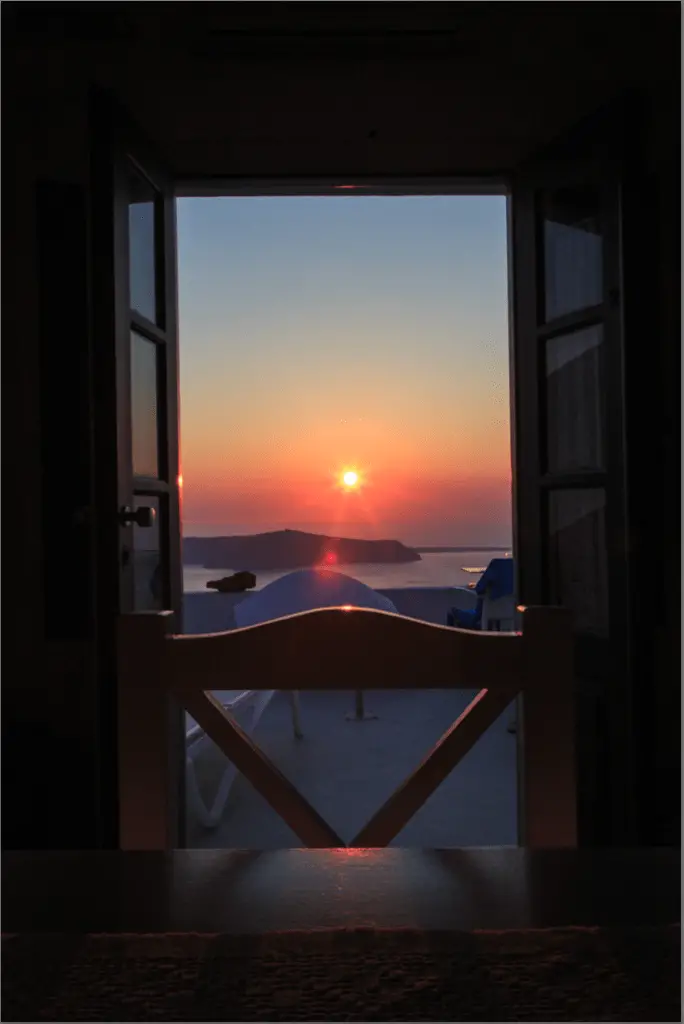 And this is the HDR Merged processed image.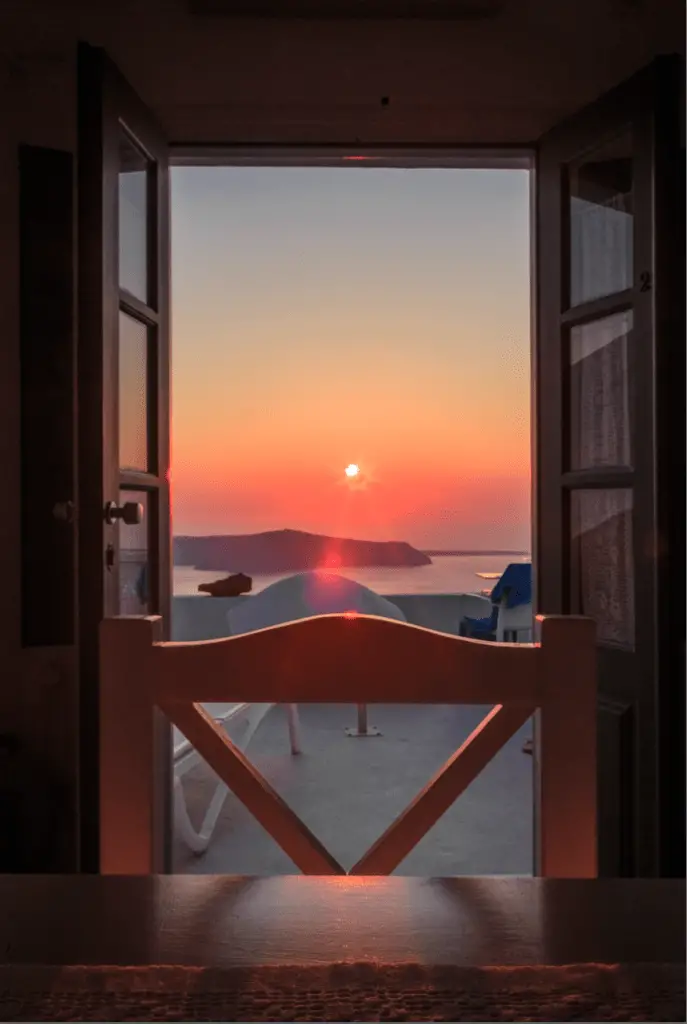 And this is the processnig I did in Lightroom to get the result above.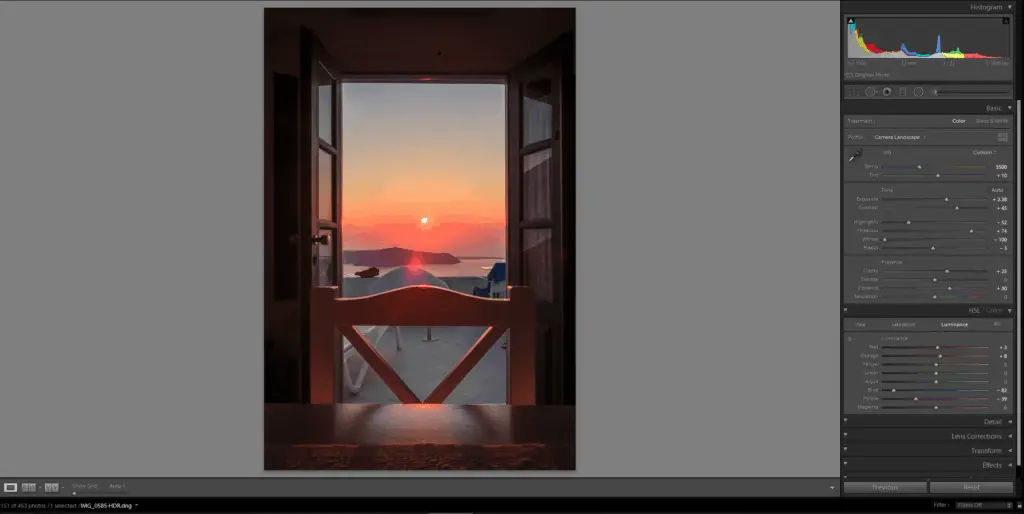 The big work in this image was removing the sunlounger, umbrella pole, table and the bits of ornaments on the white wall.
These bits all took time to remove.
But why did I remove them?
Well these are all things that I could have removed if I had the time (and a tool kit for the umbrella pole) but I did not know that I was going to get such a great shot and to be honest I didn't think about moving all this stuff at the time.
I was trying to photograph straight into the sun which is not the easiest of things, and sometimes you just can't see stuff that should be removed from the image.
And with sunsets and specific locations like this trying to capture the sun above the table (roughly) in the middle of the doorway means there just isn't time.
In circumstances like this I am comfortable removing things from an image using Photoshop – they are after all man made things introuced into the scene.
And what tools did I use in photoshop?
My go to removal kit
Clone Stamp Tool
Spot Healing Brush
Patch Tool
As you can see by checking out the finished image at the top of this post there was quite a lot of stuff removed, probbaly the most I have removed from a photo.
What could I have done to improve the image?
Would the sun in the middle have improved this photo?
Or would the inclusion of my wife have improved it? Yes of course she would, with a glass of wine off to the left taking in the late aftenoon sun.
That is a very important learning point – why did I not include my gorgeous wife in this photo?
And what are my thoughts on this image?
I love it. If you want to be to see the sunset in Santorini from your hotel room then this should do.
Santorini is such a great location to take photos, and I was delighted that our hotel became a complete part of that whole wonderful experience.
Enough of me – what do you think of this image?
Do you like this photo of the sunset viewed from a a room at Kasimatis Suites?
Do you agree with me removing the things I did from this image?
Let me know what you think.
One last thing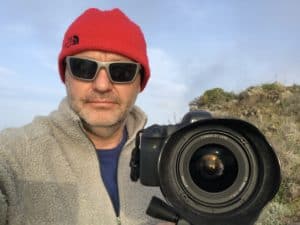 If you want to buy this image, or want to speak to me about future collaboration email me at sales@rickmcevoyphotography.co.uk.
Rick McEvoy ABIPP – Photographer, writer, blogger