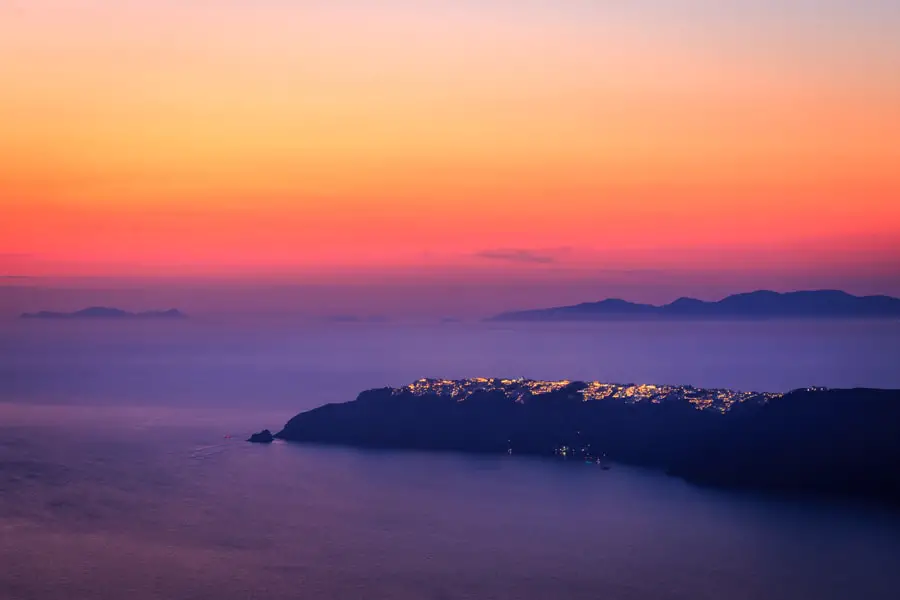 This is the last image that I will talk about on my new website Photos of Santorini. I hope you have enjoyed seeing and reading about my photos.
Which is the best – Oia or Imerovigli sunset? I say the sunset view of Oia from Imerovigli – its a great view which is one of my favourite sunset views of Santorini. Why choose when you look at one from the other?

On this particular evening just look what was in front of me – just stunning.
And this is why I love Santorini so much – quite simply a stunning Greek Island with stunnig views.
One of the things that I have noticed is that in 5 days I got a great number of images that I could use commercially – well over a hundred. On a travel photogrpahy shoot I am normally happy to get one image that I will use per shoot, so to get so many in 5 days is just fantastic for me.
And all this makes me want to do is go back to Santorini and photograph the rest of this wonderful Greek Island.
Why do I like this photo so much?
Santorini is renowned for its views, and for it's sunsets. And sunset colours don't get much better than this.
In this photo we are looking at the small town of Oia, which is perched on the end of the caldera just before it drops into the Southern Agean Sea.
In the background you can see Sikinos and Ios, two small Greek Islands that I would love to visit, as well as some even smaller islands which don't even have names (as far as I can tell).
I love the sunset colours in this image, with a range from magenta to light orange with lots of different shades in the middle.
You can see the lights of the buildings on the town of Oia, as well as Oia Port down to the right.
There is a solitary boat going round the headland – is that a sunset crouse or a fishing boat? Well will never know.
And in the background amongst all those lovely colours other islands dotted around the Southern Agean Sea.
Such a lovely scene which I was very fortunate to witness and photograph.
How did I decide on this composition?
Well that was easy enough – it was sat there in front of me. The caldera entering the photo bottom right and the islands above.
I have put the horizon pretty much in the middle of the image. This was a conscious thing, and is a big no no in photogrpahy – never put the horizon in the middle as it cuts an image in two.
This is one of the basic rules of photography.
Which it is good to break once in a while.
Why did I do this?
Simple – I wanted as much of the gradation of the orange in the sky as possible – that is one of the primary elements of this image.
And does anyone care about the rules of photography other than other photographers?
Of course not. No one cares. And I am not taking photos for other photogrpahers. And when I take photos I am thinking about the composition and not the rules of photography.
So there – thats the photography world told!
Where was the photo taken?
Where the number 7 is on the yellow tab.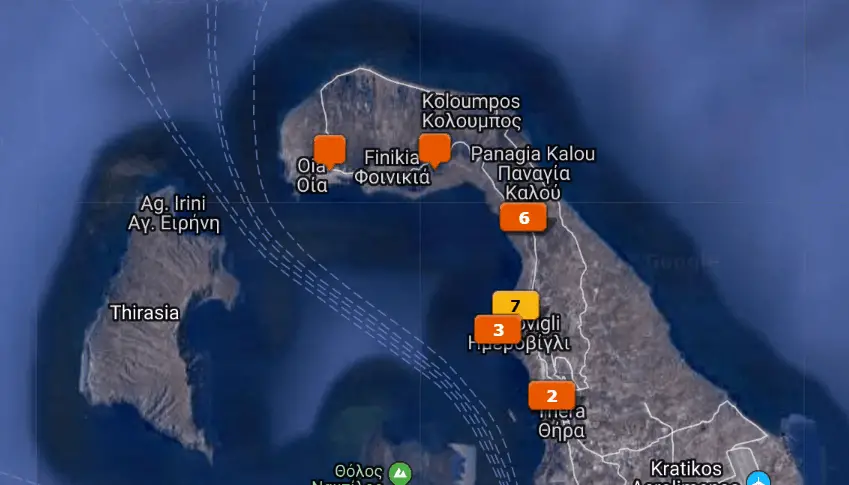 Basically this yellow tab is the location of the lovely Kasimatis Suites, the hotel we were staying in.
What time of day was the photo taken?
18:23. Yep an actual sunset. And this image was part of a sequence of images capturing the entire sunset for at least an hour.
What photography gear did I use to get the shot
Beer. I was at the hotel so had a beer on the go – most excellent.
Canon 6D
Canon 70 – 200mm F4 L Lens (focal length used 70mm)
Manfrotto 190 Go tripod with geared head
Peak Design Everyday Backpack
Loupe Viewer
No hat required (I need a cap)
Oakley sunglasses
Flip flops
What camera settings did I use?
Aperture F8
Shutter speeds 1 second, 1/4 second and 4 seconds.
ISO 400
Back-button focus
Focal length 70mm
AV Mode
10 second self-timer
RAW format
I will say this again. F8 is my go to aperture. F8 is the sweet spot on my Canon 70-200mm lens, and gives me the sharpest images. And also for a shot like this depth of field is less of a worry so this was just fine.
And look at the exposure times. 1 second, 1/4 second, 4 seconds. I stuck with an ISO of 400 to keep the noise in the image down, giving me longer shutter speeds. But as I was taking photos on a study tripod on solid ground not a problem. No blur in the image (apart from the boat coming round the headland that is).
One interesting fact about the image.
I took 80 photos in total during this sunset, starting at 4:54pm and working through to 6:29pm. This was how long the sunset lasted, and also how long I had with that great light looking out from the hotel and surrounding locations in Imerovigli to the west and into the lovely lovely setting sun.
And, obviously, this was my favourite photo from that sequence.
Is there a behind the scenes video of this shoot?
No.
How did I process the image?
This is the RAW image – check out that sensor spot to the right – that has to go (which of course it did). And look how dull flat and lifelss the RAW image is. But all the base data is there that I need to create the photo at the top of this post.
And this is the image having been processed in Lightroom (I know the dust sensor spot is still there).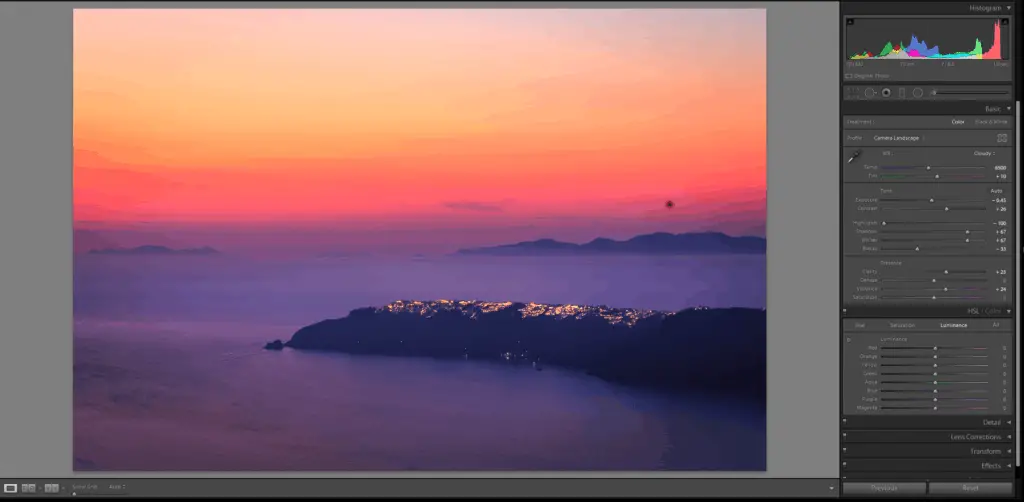 You can see most of the processing that I carried out to this image in the screenshot.And you can also see that the reproduction of the colours is realistic – I have just emphasised what was there, rather than doing any funky Photoshop trickery. That is not what I am about.
Talking of Photoshop this image was finished off in Photoshop removing that hideous sensor spot and any other distractions and errors.
What could I have done to improve the image?
I didn't like the wider composition. Could I have done a tighter crop? Well lets see.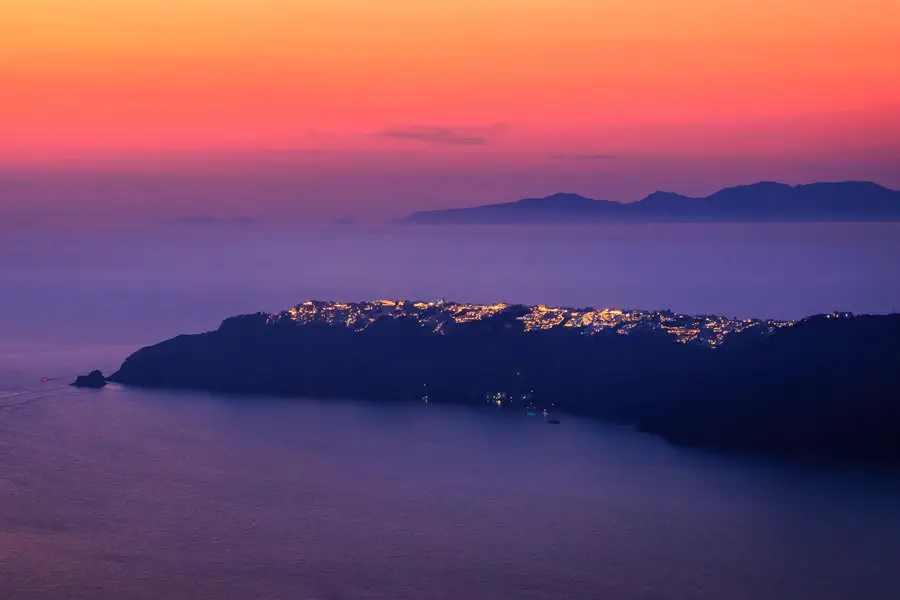 Not sure if that is better or not. Actually it is fine either way – sometimes a change in composition can make a difference, sometimes not so much.
And what are my thoughts on this image?
Well doing that tighter crop got me thinking, which is never a good thing.
Either way I love the sunset colours and the depth the other islands give this image.
A great way for me to finish my sequence of photos of Santorini.
Enough of me – what do you think of this image?
One last time (for now) – what do you think of this sunset view of Oia from Imerovigli?
And do you prefer the cropped imaged?
Please let me know – I love hearing what you all think of my photographs.
And I hope that you have enjoyed this post and my other posts all about my photos of Santorini.
Now that my work here is nearly done please check out my other travel photography website Paxos Travel Guide, which should be completed by the end of December 2018.
One last thing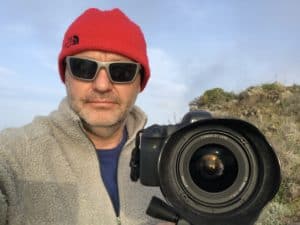 If you want to buy this image, or want to speak to me about future collaboration email me at sales@rickmcevoyphotography.co.uk.
Rick McEvoy ABIPP – Photographer, writer, blogger