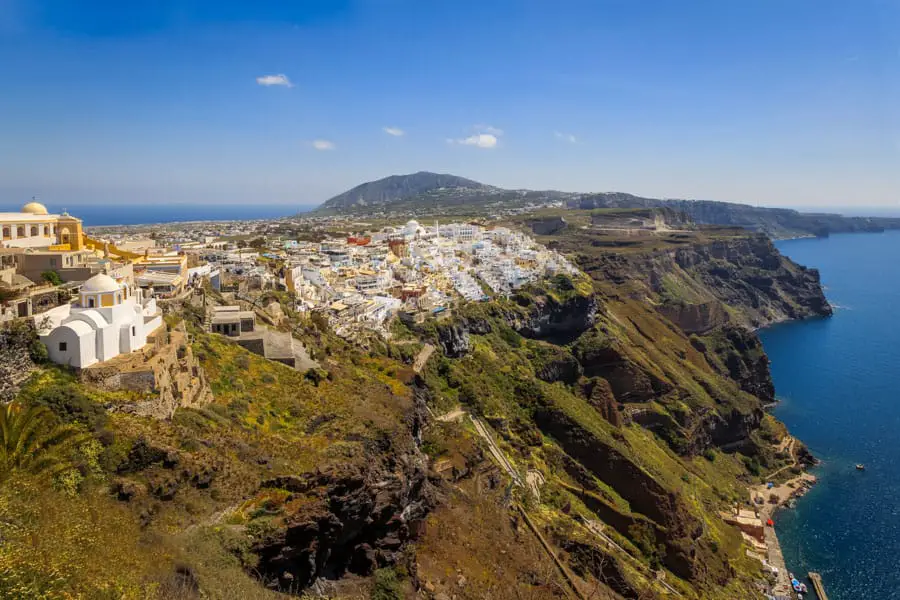 Santorini is a small island which packs in the views all over the place. We have all seen lots of images on the internet of those famous white buildings of Santorini, but I try to provide slightly different views.
Is this the best view of Fira, the capital of the Greek Island of Santorini? I think so. This really is a spectacular view, which was taken on my Canon 6D on the walk from Imerovigli to Fira.
Why do I like this photo so much?
One thing I like to capture in one of my photos is context. And if you haven't been to Santorini before you might not appreciate how the famous white buildings of Santorini have developed on the top of the famous caldera.
And this view taken on the main pedestrian route from Imerovigli to Fira shows this perfectly. This is not that common a view of Fira, which surprises me as there were plenty of people on the footpath that day.
Or so I thought.
I realised how quiet the walk from Imerovigli to Fira was when we got to Fira – there were endless people filling the footpaths making the town almost unbearable.
So I like this photo as it gives context and scale to the capital of Santorini.
You can see exactly how the town has grown on the top of the caldera, and also all those lovely white buildings.
And if you look really carefully you can see the cable car cables appearing out of a building!
How did I decide on this composition?
As we were walking along the path I was obviously taking in the views and Fira growing in front of me as we got closer. I waited until I found a white church which I could include as a foreground feature, which you can clearly see.
I also wanted to get the shoreline to show the full extent of the caldera, and ended up getting the concrete structure which is where tourists are dropped off from the cruise for a day on the island. You can either walk or get the cable car – more on that in another post.
Talking of context this photo also shows the scale of the caldera on which all those lovely white buildings have been constructed.
Where was the photo taken?
Right where the number 10 is.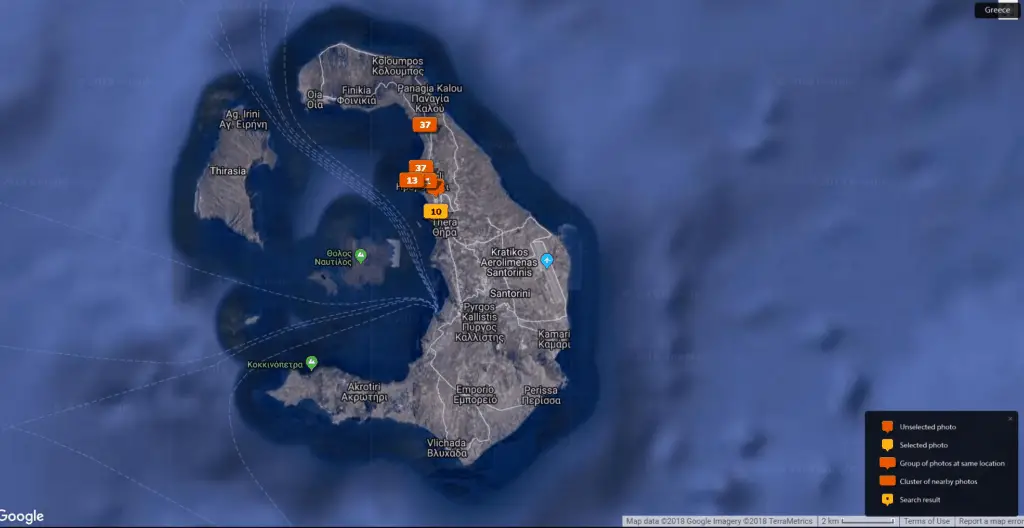 Or to be more precise.Where the number 5 is.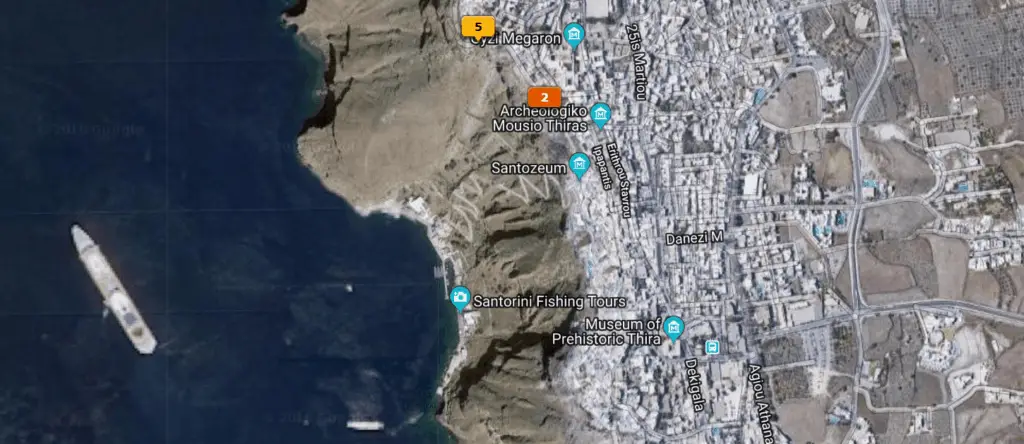 Is that precise enough for you? I couldn't zoom in any more and make the number 5 go down to 1 for just this image but this is near enough I guess?
What time of day was the photo taken?
12:40pm. We were walking to Fira for an explore and a spot of lunch. I had been on the go since about 4am that day, getting some great sunrise photos from the top of the caldera. And after the cold of the morning on the caldera the daytime heat was a lovely change for me.
It is funny how we can adjust to such varying temperatures in the same day. And to the complete lack of sleep/ rest!
What photography gear did I use to get the shot
Canon 6D – here it is! Well I thought I should show you what it looks like!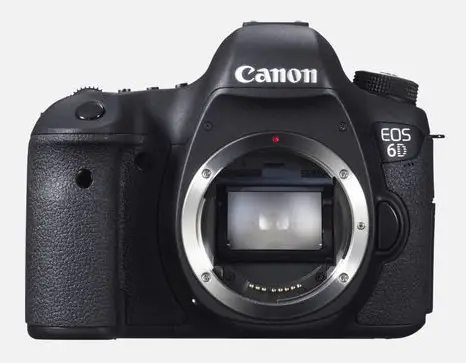 Canon 24 – 105mm F4 L Lens (focal length used 17mm)
Hanheld – my Manfrotto 190 Go tripod with geared head was in my bag
Peak Design Everyday Backpack
Loupe Viewer – yes I still use it even hand-held
No red hat
Oakley sunglasses
Red shoes (feet aching a bit)
Kasimatis Suites breakfast fuelling me
What camera settings did I use?
Aperture F16
Shutter speeds 1/500th second, 1/2000th second and 1/125th second.
ISO 400
Back-button focus
Focal length 24mm
AV Mode
10 second self-timer
RAW format
One interesting fact about the image.
When we got to Fira we found a restaurant right in the centre of the capital of Santorini. We ordered a beer each and sat there. It was right next to one of the main footpaths through Fira. And was it busy!
And we sat there for an age, too tired and hungry waiting for our food to arrive, which took an absolute age. So tired and hungry we just sat there in silence!
When the food finally came it was excellent – chicken gyros with chips. One of my favourite Greek meals!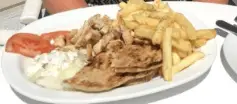 Is there a behind the scenes video of this shoot?
No. But look what we got when we were in Fira. And yet another use for a Peak Design Everyday Backpack. A bottle of Prosecco carrier!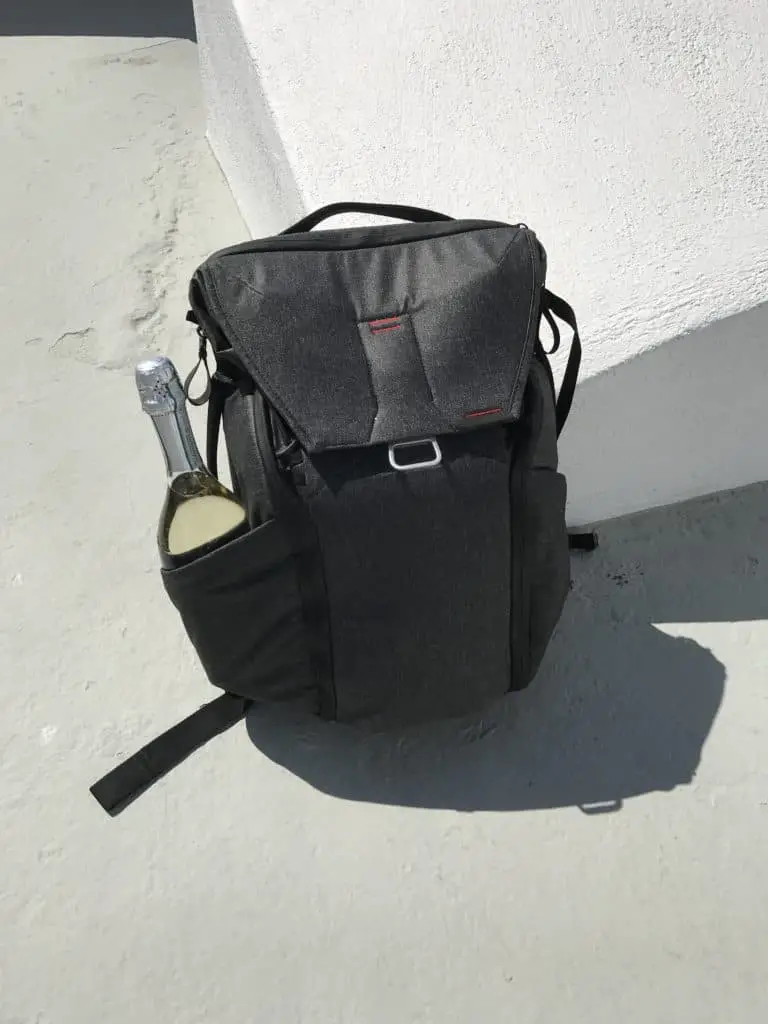 And see that white thing that my camera bag is resting against? That is one of the legacies of the wine cellar days. Kasimatis Suites used to be a wine celler, or as they are known locally, cavana.
There are remnants of the buildings former use all over the place, which make random appearances in other photos on this website.
How did I process the image?
This is another bracketed set of images merged together in Lightroom using the not surprisingly named HDR Merge feature.
This is what I did in Lightroom. Not too much in terms of processing to be fair.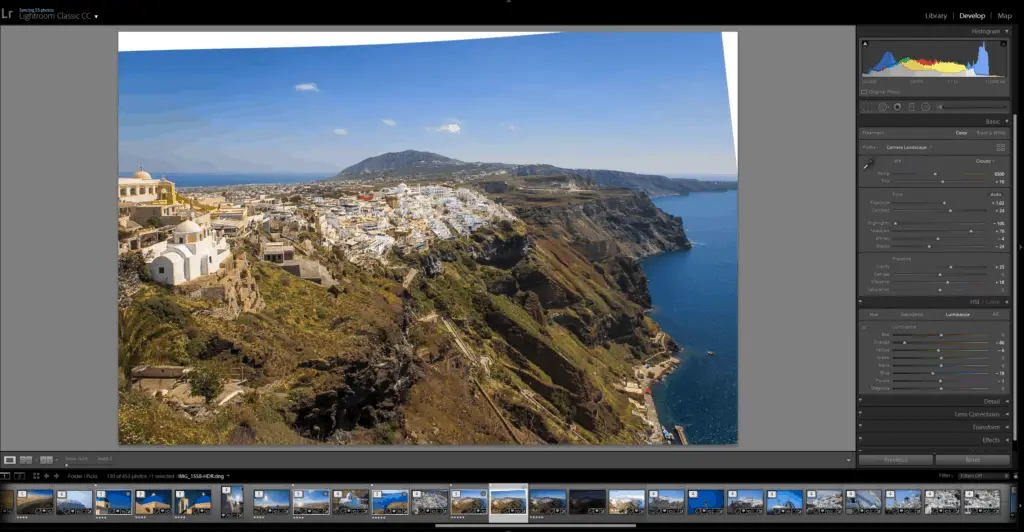 Now you will have noticed there is a problem!
Yes there is some stuff missing. Here is the actual image. When I straightened the horizon I lost some stuff around the edges. I could have used Constrain to crop which would have basically cropped in the image removing the bits of white but I didn't want to do that.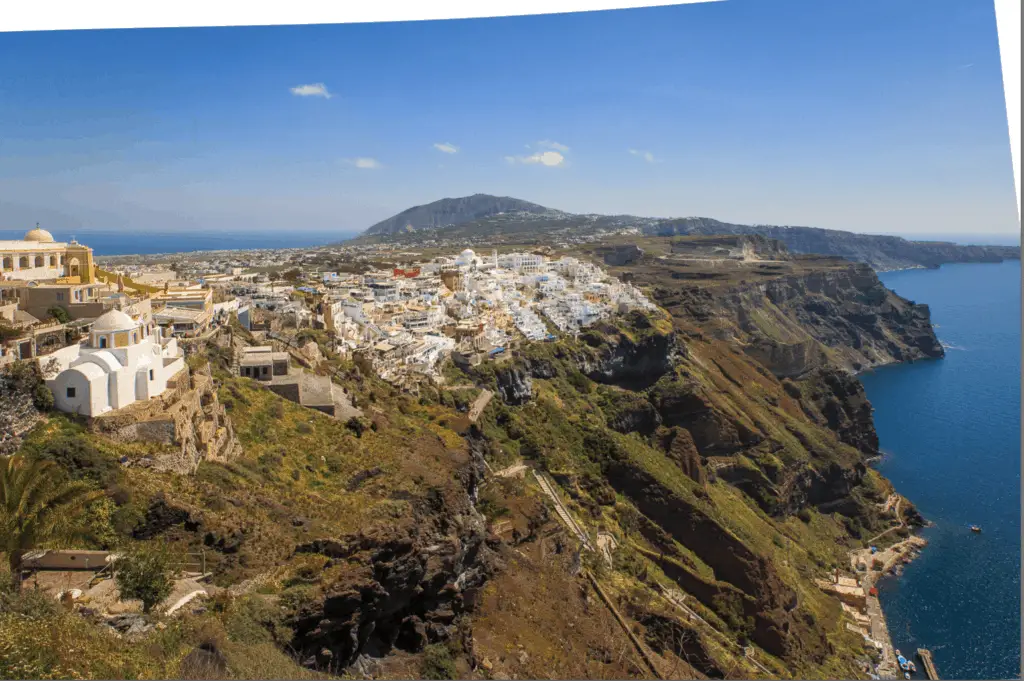 I wanted the full image, so had to fill in the blanks.
Now if only there was some software that could fix this…..
Time to jump over to Photogshop. I used the Clone Stamp tool to fill in the blanks, and then used the Patch Tool to improve the standard of the edit to the point where you can't actually tell what I have done.
That is always the intention with my digital image processing – that is looks natural.
What could I have done to improve the image?
Well I could have taken the shot with the horizon level to save me some work in Photoshop, but apart from that this is the view.
Maybe I could have waited for a cruise ship to arrive and get that in shot to the right. That would have balanced things nicely.
And what are my thoughts on this image?
I wanted to get a view of Fira perched on top of the caldera. And that is what I captured.
I like this image, and it tells the story I wanted to tell with a single image.
It tells the story of the capital of Santorini, Fira, perched on the top of the caldera. And of those lovely white buildings.
And the steep drop down to that lovely blue water.
Enough of me – what do you think of this image?
Let me know if you like my photo of Fira from the footpath to Imerovigli.
One last thing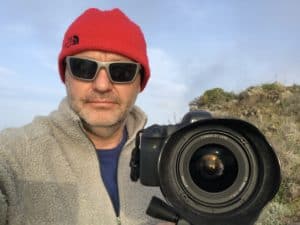 If you want to buy this image, or want to speak to me about future collaboration email me at sales@rickmcevoyphotography.co.uk.
Rick McEvoy ABIPP – Photographer, writer, blogger